Do you need to restrict the sale of specific items to specific customers?
What would happen if you sold the wrong product to the wrong customer?
If you have inventory items that are for specific customers you need to ensure that sales orders do not include the wrong inventory item.  Often these items are based on the customers specifications making Sales Order processing critical in matching the correct inventory to the Customer.
You can use Price Levels in Dynamics GP but that often requires high maintenance to keep up.  We developed Restricted Items Genie to control what customers get what inventory to address this issue.
Restricted Items Genie prevents the sale of unauthorized items to customers.  When entering a sales transaction, Restricted Items Genie checks the authorized sales list for the customer and customer class.  If the item you are trying to sell is restricted for that customer Restricted Items Genie will inform you of the issue and remove the item from the order.  Simple, fast, and effective.
The following screenshots show the messages displayed when the user tabs off the line after entering a restricted item number for a customer not authorized to purchase the item: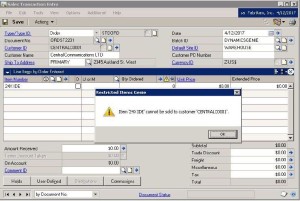 For more information download the SOP Restricted Item Genie manual SOP Restricted Items Genie